Art Box portal //
Da li ste čitali knjigu Gija Debora "Društvo spektakla" (La société du spectacle)? Ovo filozofsko delo, nastalo 1967. godine, predstavlja osnovu marksističke kritičke teorije u kojoj Debor elaborira koncept spektakla. Prepoznata kao značajan tekst unutar situacionističke internacionale, knjiga se sastoji od  221 teze, a svaka je sažeta u približno jedan pasus.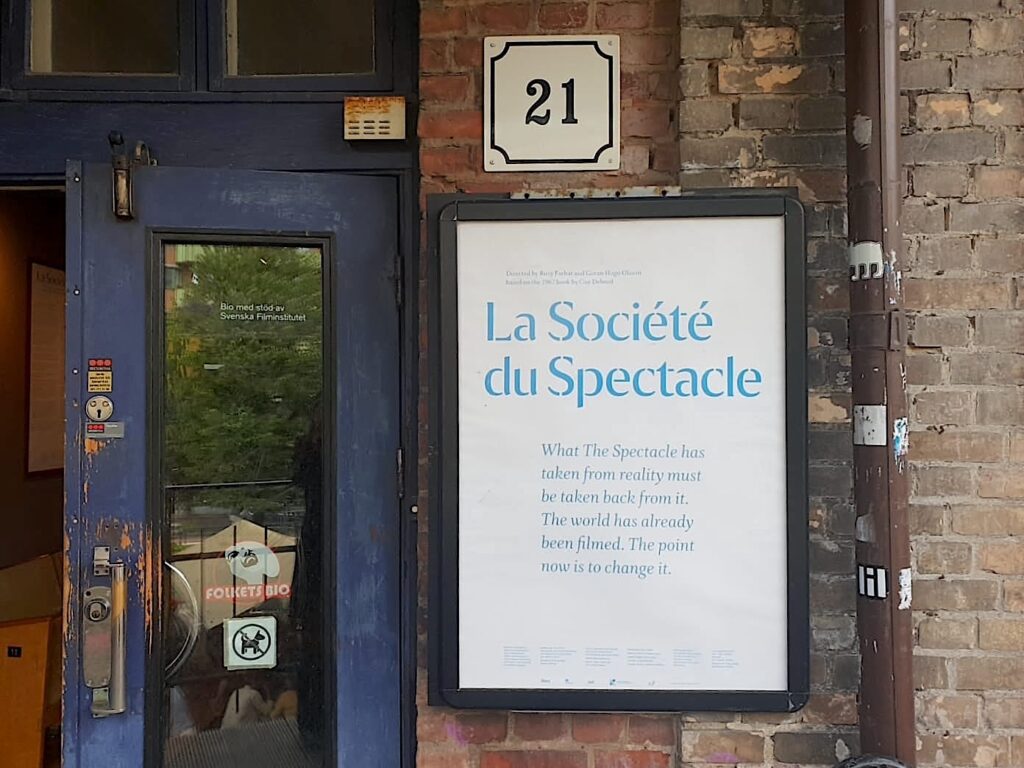 Debor se upušta u putovanje kroz evoluciju savremenog društva, gde su autentični društveni odnosi zamenjeni njihovim reprezentacijama: "Sve što je nekada bilo neposredno doživljavano, udaljeno je u predstavu."
Međutim, "spektakl" nije ograničen na puki skup slika, Debor tvrdi: "To je društveni odnos posredovan slikama."
Unutar svoje analize društva spektakla, Debor prepoznaje osiromašen kvalitet života, ističući primetni nedostatak autentičnosti, eroziju znanja i odsustvo kritičkog razmišljanja.
"Drustvo spektakla" kritikuje potrošačku kulturu i fetišizaciju robe, propitujući teme poput otuđenja, kulturne uniformnosti i sveprisutnog uticaja masovnih medija.
Deborova tvrdnja da je "sve što je nekada bilo neposredno doživljavano, postalo puko predstavljanje" dobija zastrašujuće poznatu dimenziju, posebno u kontekstu današnjeg vremena. On naglašava centralnu ulogu slika u savremenom društvu, otkrivajući da su te slike zamenile autentične ljudske odnose
"La Société du Spectacle" se ne ograničava samo na sferu pisane teorije. Ovo delo je pretočeno i u crno-beli Deborov film iz 1974. godine. Ova filmska adaptacija njegove knjige kritikuje sveprožimajući spektakl koji definiše naše živote.
Društvo spektakla u 21. veku
Umetnica Roxy Farhat i reditelj Göran Hugo Olsson propituju Debordove postulate u kontekstu 21. veka u dokumentarnom filmu "The Society of the Spectacle" iz 2023. godine. Kroz 27 epizoda, Farhat istražuje Debordove teze uz razgovore sa ekspertima, kritičarima i naučnim radnicima. Film je zapravo, i satirična i samokritična adaptacija Debordovog teorijskog remek-dela, i analiza sveprisutnog spektakla u koji smo uronjeni.
Švedski dokumentarni film "Društvo spektakla", koji preporučujemo čitaocima portala Art Box, podstiče na razmišljanje o svetu u kojem živimo. Poziva nas da istražimo naše autentično ja usred kakofonije društvenih medija, samo-predstavljanja i vizuelnih utisaka. Što nikako ne smemo propustiti da učinimo.