Piše Dragan Vojvodić //
Legende brit pop-a su se nakon, za njihove fanove prevelike, pauze od 8 godina, vratile na scenu albumom The Ballad of Darren. Za pevača i frontmena Damona Albarna ova kao i prethodne pauze bile su verovatno i potrebne jer on, zajedno sa britanskim crtačem stripova, ilustratorom i video-režiserom Jamie Hewlett-om, od početka novog milenijuma predvodi i drugi, virtuelni bend Gorrilaz.
Devedesetih godina prošlog veka Blur su uz nekoliko novih bendova poput Oasis, The Stone Roses, Happy Mondays i drugih pokrenuli novi talas brit pop-a. Osnovu njihovog muzičkog izraza čini mešavina madchester-a i shoegaze-a.
Madchester se, kao novi muzički stil, vezuje za mančesterski brit pop zvuk. Bendovi poput The Smiths, New Order i The Fall utrli su put novoj generaciji mančesterkih bendova 90-tih među kojima su Blur dominirali sve do pojave Oasis-a.
Shoegaze je podžarn indi stila koji karakterišu zatamnjeni vokali, gitarske distorzije, upotreba pedal efekata i feedback-a. Za njega su zaslužni bendovi kao što su My Bloody Valentine, The Jesus and Mary Chain i Cocteau Twins. Muzika Blura će se preko ovog stila referisati i na čitavu generaciju post punka nastalu u Britaniji 80-tih godina.
Brit-pop, čiju osnovu čine muzičke konstrukcije koje su Bitlsi postavili 60-tih, tokom 90-tih će na evropskom kontinentu predstavljati otpor protiv dominacije američkog zvuka koji će se tih godina, zbog pojave grunge rock-a, širiti ne samo prostorima Amerike. Zahvaljujući uticajima lo-fi indi američke muzičke scene, gde je dominirao niskobudžetni do it yourself pristup pun improvizacije u produkciji zvuka, Blur će se 1997. istoimenim albumom visoko kotirati i na američkim muzičkim top-listama. Međutim, neće se zadovoljiti time. Skloni eksperimentisanju bili su otvoreni i za elektroniku, hip pop i mnoge muzičke žanrove koji će vešto inkorporiti u vlastiti zvuk. Njihov sedmi album (poznat po coveru koji je uradio Benksi)  Think Tank oblikovali su u elektronskom stilu.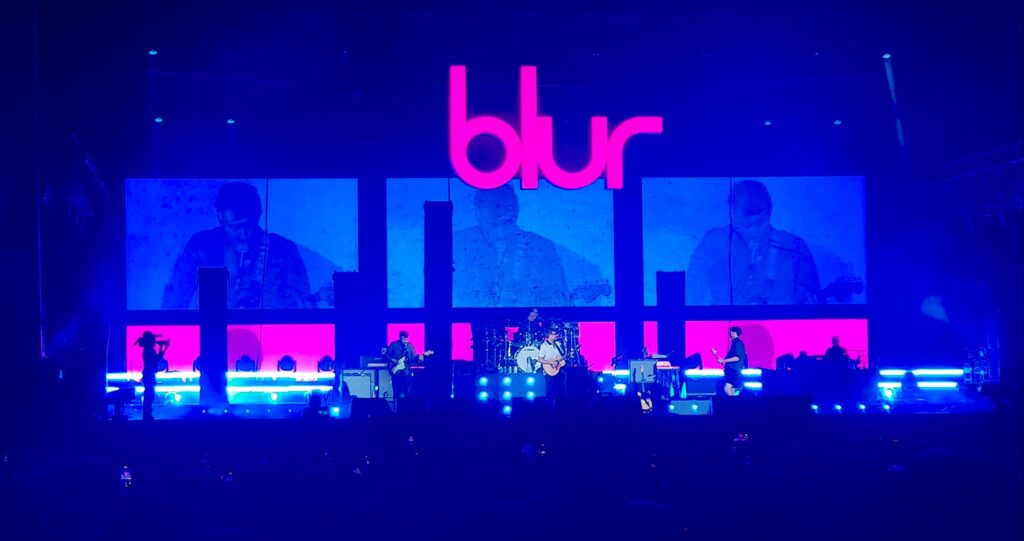 Tokom svog sada već dugog trajanja Blur će se konstantno nalaziti pred razlazom i praviće veće pauze. Godine 2023. nakon novog albuma i dvodnevnog nastupa na Wembliju 8. i 9. jula, nastupili su i na Way Out West festivalu u Slottsskogenu 11. avgusta.
Drugi dan Way Out West festivala obeležilo je očekivanje čuvenih Britanaca koji su, tokom finalnog nastupa večeri na Flamingo pozornici, privukli pažnju do tada najvećeg broja posetilaca. Prethodno prilično udržana festivalska publika koja je vodila računa o distanci sada se tiskala ka pozornici i prostor ispred bine je ubrzo bio preplavljen masom koja je hipnotički posmatrala nastup Blura.
Svoju comeback turneju, naizgled ležeran sastav Blura, izrežirao je gotovo do savršenstva. Ceo nastup je, pomognut  gigantskim displej-ekranima (bilo ih je 8) i mega velikim logoom grupe, bio vrhunski audio-vizuelni spektakl. On je, zapravo, pokazao moć vrhunske prezentacije jednog muzičkog događaja uz pomoć najsavremenije tehnologije. Publika je tako prisustvovala ne samo muzičkom koncertu već je imala priliku da posmatra direktan prenos samog događaja koji se odvijao putem ekrana koji su bili postavljeni u dubini stejdža. Video-zapis, sniman kamerama sa različitih udaljenosti, sa ogromnih konstrukcija postavljenih iza publike, ispred samog stejdža i iza njega, vrhunskom režijom i montažom istog sa unapred pripremljenim animiranim video-materijalom, prezentovao je svaku pojedinačno izvedenu kompoziciju kao zasebno video-umetničko delo.
Publika je putem monolitnih ekrana, postavljenih u velikom nesrazmeru sa figurama članova benda na sceni, imala priliku da prati ne samo sliku onoga što se dešavalo na pozornici već i prenos prezentacije samo događaja. Naime kamere su, snimajući glavne aktere na sceni, snimale i ekrane iza njih i na taj način prenosile sliku slike percipirajući beskonačnost, loop u kojem su svi prisutni bili uvučeni. Sa distance prespavane noći nakon koncerta rekao bih da je taj režirani spektakl čak preuzeo dominaciju nad samom muzikom.