Interview by Ljiljana Maletin Vojvodić //
Laurie Rosenwald (1955) is an author, designer, painter, and educator from New York. Her illustrations have appeared in The New Yorker, The New York Times, New York Magazine, The Atlantic, The Wall Street Journal, and Vanity Fair, among many other publications. Over her career, Laurie's work has included animation, product design, and both online and print media for companies like The Atlantic, Bloomingdale's, the City of Paris, Coca-Cola, Fiorucci, Ikea, JWT, Knopf, Neiman Marcus, Nickelodeon, Ogilvy, Random House, Shiseido, Sony, The Sundance Channel, Virgin, Warner Brothers, and The Whitney Museum. Her most recent book, How to Make Mistakes on Purpose, which was the subject of her TEDx Talk and is accompanied by a touring workshop of the same name, gives people a chance to "create through intentional acts of randomness − a way of working that helps individuals get unstuck and discover new skill sets."
I met Laurie at an artist-in-residency in Gothenburg, where she has been working on and off since 1999, splitting her year between New York and Sweden. Laurie is intelligent, creative, sociable, and funny. Always ready to help, she showed me a side of Gothenburg that I wouldn't have been able to experience without her. All those hidden, authentic things that only locals know. I have long wanted to have an official conversation with Laurie. Our meeting this year is finally the occasion.
This is probably a question you've answered so many times, but I'm sure people are curious about what a native New Yorker is doing in Gothenburg.
When I lived in Paris in the '80s, nobody ever said, "Paris? Why Paris?" But Gothenburg always raises an eyebrow − I like that. The thing is, I trust my instincts, and after my first summer here, I realized how good it felt to be here, so I just kept coming back. It's a great place to paint and write and carry on with …whatever, in complete obscurity. In New York, the art world and the crush of Type-A achievers is all around you. But the main reason I love Göteborg is the true-blue friends I've made in this place − that's what I really treasure. I don't need to operate at the center of things. I'm from Manhattan − and still live there. The blend of both places is just right.
What do you appreciate or enjoy the most about Sweden and its people?
It's not Sweden, it's the people I happen to know. To tell you the truth, Swedes in general frighten me. Many of them seem guarded and suspicious of outsiders. That said, I like reserved people that enjoy being around a loudmouth New York Jew. I'm so lucky I met such wonderful exceptions to every rule. Circa 2001, I tried to get residency in Sweden. So I had a frank conversation with a high-ranking immigration official. What follows is verbatim:
2001: Swedish Sex
LR: I'm an American citizen, but I want to live in Sweden. What are the rules for residency here?
IM: So you're married to a Swede?
LR: No, I'm not married.
IM: Oh, so sorry. So you're living with a Swedish man, then.
LR: No. But I once was married to a Swede.
IM: Okay, then!
LR: But we divorced in 1988.
IM: That's too bad.
LR: You're telling me!
IM: So, you have children in Sweden? Little Swedish children?
LR: No. No children.
IM: No children? Oh, well. Perhaps a Swedish company employs you?
LR: No, not employed.
IM: No job?
LR: I'm freelance.
IM: [Silence]
LR: But I have a lot of friends here.
IM: Oh, friends don't count.
LR: [Silence]
IM: But what reason could you possibly have to want to live here?
LR: The way you're talking, you make me feel like I have no reason to want to live at all. No man, no job, no children…. Wait. I have an ex-mother-in-law in Helsingborg.
IM: That doesn't mean anything.
LR: But she loves me very much!
IM: Look, we here in Sweden are very liberal. You don't have to be married. But to live here permanently you have to prove you are in a serious personal relationship. Like for a couple of months or something.
LR: A couple of months? Is that all you people care about? Sex? I have to be having Swedish sex?
IM: Well, yeah!
LR: I'll see what I can do.
I believe that no one can give a better answer to the following question than you. What is the How to Make Mistakes on Purpose Workshop, and why is it necessary?
Because shared tastes and experiences, plus digital technology equal no surprises. Because when you get good at something, you repeat it. After all, computers don't make mistakes. Mistakes like Velcro, dynamite, and Coca-Cola.
What happens in "Mistakes on Purpose" workshops? 
People invent and discover new stuff. They get unstuck when they're stuck. You might invent a thing that saves lives, create a new dessert, come up with a lucrative investment, or an adventurous road trip.
Champagne, Popsicles, and Pringles! All were invented by accident.
In the workshop, things will happen that will make you ask, "Hey − What could this be?" People invent new things and have unexpected ideas. That is what HTMMOP is for. When you surprise yourself, you surprise others. And that is priceless in a world where everything seems to have been done.
What influences or inspires your artwork?
Nothing. Inspiration has never existed for me. Every day I wake up and either write or paint something − that's just what I do. I guess you could say…art supplies.
How does living in New York contribute to your artistic process?
It probably hurts. I get jealous – I have some very successful friends. Then again, I love my complicated city, and growing up with creative, smart, funny people has given me …everything. I ignore most gallery shows, I prefer the Metropolitan Museum. And I hang out in a secret, private library. It was Herman Melville's library so it's good enough for me. It is very, very quiet there.
How do you navigate the competitive art scene in New York?
I don't − I just keep painting. Look − it's simply not my turn. I'm 68. I don't participate anymore − they'll want me when I'm dead. Maybe.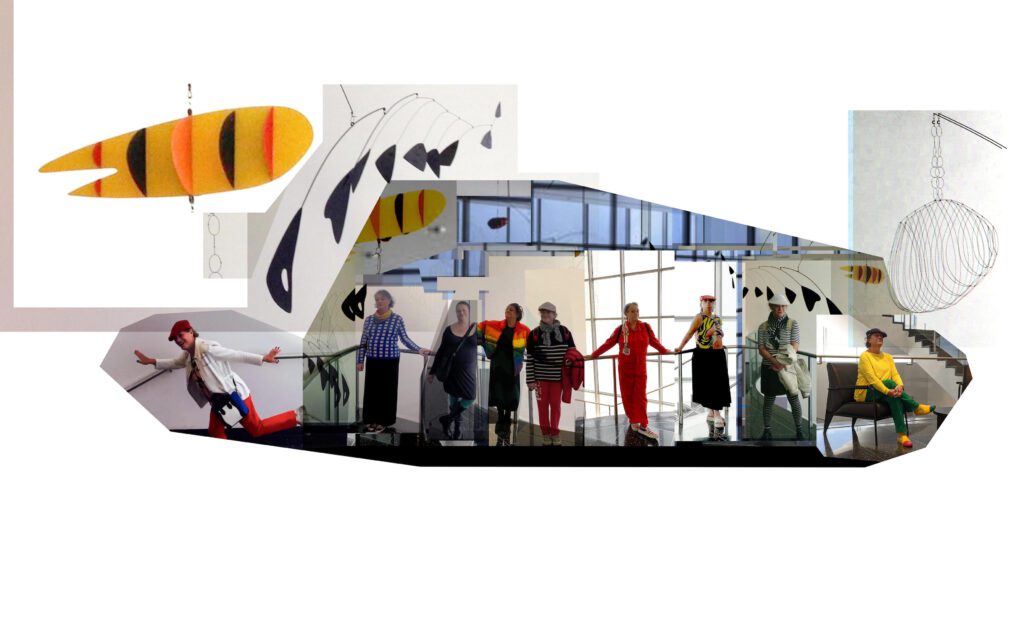 You appeared as "Woman" in Season Five Episode One of The Sopranos. I'm also familiar with the story of David Bowie who bought you a cheeseburger and you "chatted a lot circa 1980". Can you share one of your favorite stories with the readers of the Art Box portal?
Yes!
After nearly 40 years in the "business," to this day I am not sure what the differences are between designer, creative director, and art director. All I know is that, as the 2000-year-old man has boasted, I have known "the great and the near great." Bea Feitler, Marvin Israel, Alexander Liberman, and David Bowie. Wait! I think there's a story there.
1980: Ch-ch-ch-Changes
An art director I knew, knew someone who knew someone, and suddenly I was working for David Bowie. At that time his teeth were still British. I met him at his manager's office. He opened the door and immediately charmed the socks off me. The project was an album cover and poster for a D.A. Pennebaker documentary on Bowie as Ziggy Stardust. He rang a greasy spoon downstairs, ordering cheeseburgers deluxe and Cokes. We ate junk food and laughed. We chatted about art, music, books, New York. Then I took the 1 train downtown, and he flew back to Switzerland. I'd Fedex different poster ideas to him. He'd phone me at odd hours, and say, "You know that poster you sent me last week?"
"Yes."
"Well, could you do something that's like, the opposite of that?"
"What do you mean?"
"Well, you know the way it is?"
"Yes."
"Well, that's exactly what I don't want, so could you do something that's as different from what you did as is humanly possible?"
"Sure thing!"
So that's how I met David Bowie, a genius music legend and the world's worst art director. That said, I've worked with a hundred horrible art directors, and not one of them can sing "Rebel, Rebel" worth a damn. I'm a Bowie fan forever. As per usual, they ended up using a photograph, but still. So what? I'll dine out on that cheeseburger as long as I live.
______________
All photos © Laurie Rosenwald
Link to buy the book How to Make Mistakes on Purpose by Laurie Rosenwald