The conversation was conducted by Ljiljana Maletin Vojvodić //
In 2023, the Albertina Museum celebrates the 20th anniversary of its reopening. No museum in the world has exhibited more drawings, prints, and graphic artists' exhibitions in these two decades than the Albertina Museum. This year, the focus is on the Graphic Collection with six exhibitions. Spanning 600 years of art history, the Albertina Museum's collection, which includes over 950,000 drawings and graphic artworks, offers a comprehensive overview. One of the exhibitions, "Andy Warhol to Damien Hirst. The Revolution in Printmaking", curated by Director Klaus Albrecht Schröder and Constanze Malissa, is currently on display at the Albertina Modern until August 15, 2023.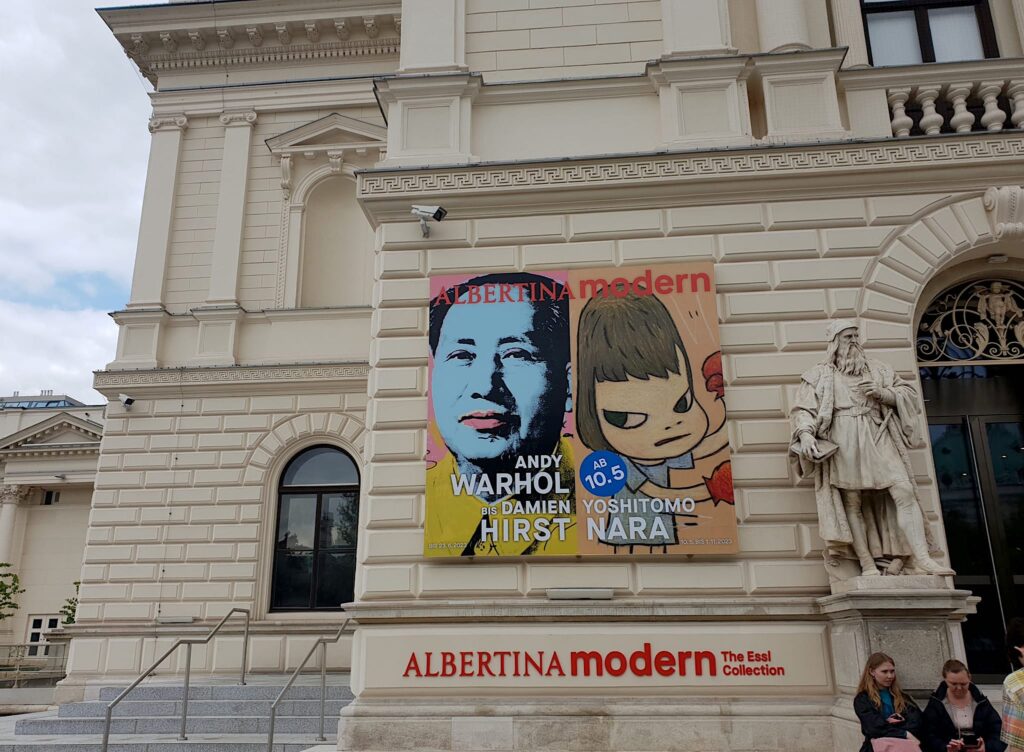 Could you tell us about your background in the arts and how you became a curator?
I studied art history, theatre, film, and media studies at the University of Vienna and began working at the Albertina right after graduation. I had the opportunity to explore various departments and served as an assistant curator for many years. In 2021, I became the secretary general of the Albertina and started curating exhibitions together with Dr. Schröder.
You co-curated the exhibition "Andy Warhol to Damien Hirst. The Revolution in Printmaking" with Klaus Albrecht Schröder. What does the joint curation process entail?
The most important aspect is constant communication regarding the selection of works. For most exhibitions, especially those from our own collection, we begin with hundreds of objects. We go through the lists together, discussing different artists and their works. Along the way, I conduct extensive research to ensure nothing is overlooked or omitted. Gradually, specific groups of works and artists emerge, forming our final selection for the exhibition display.
How would you describe your approach to curating the "Andy Warhol to Damien Hirst. The Revolution in Printmaking" exhibition? What guided your choices from the extensive Albertina collection?
The post-1960 revolution in printmaking is characterized by three significant elements. Firstly, the principle of seriality and repetition, is found in the works of Andy Warhol, Chuck Close, and Donald Judd. Secondly, the monumentalization of printed graphics, exemplified by artists like Anselm Kiefer, Franz Gertsch, Georg Basilitz, Christiane Baumgartner, Gert, and Uwe Tobias. Lastly, the adoption of screenprinting as a technique allowed the presentation of reality-as-already-photographed in artworks. These developments marked a departure from traditional methods of creating art based on nature observation. The exhibition explores these revolutionary aspects of printmaking.
What were the major challenges you faced during curating the exhibition?
The most significant challenge was the process of reduction. With such an extensive and diverse collection like ours, it was difficult to create a coherent and self-contained selection of works.
Which works stood out to you personally, and which specific topics were particularly intriguing?
Among my favorite artists, besides Warhol, Cain, Lichtenstein, Kiefer, and Gertsch, is Michaela Konrad. Her series "CAN THIS BE TOMORROW?" presents predictions for the future and past forecasts of our present. Stylistically, she draws inspiration from the golden age of comic books in the US between the 1930s and 1950s, combining sensationalist aesthetics with contemporary relevance. Konrad also references Aldous Huxley's novel "Brave New World" in her renderings of the future, utilizing both past and present elements. Additionally, Konrad has incorporated augmented reality into her works using the Artvive app.
I noticed works by Kiki Smith. How many women artists are represented in the exhibition?
Women artists represented in the exhibition include Michaela Konrad, Kiki Smith, Julie Mehretu, Christiane Baumgartner, and Auguste Kronheim.
How does curating a group show differ from curating a solo show?
When curating a solo show, the focus is entirely on one artist and their work. It's like living with their art for a few months. It can be more exhausting than exploring various positions in a group show, but it has its unique charm. Group exhibitions offer a multitude of choices, and coordinating individual themes can be particularly enjoyable.
What can art enthusiasts and admirers of Albertina expect in 2024?
For now, we can safely confirm that there will be exhibitions of Mark Chagall and Roy Lichtenstein.